TOP > Attractions in Okayama
Okayama Castle

Okayama Castle is located in Okayama City, Okayama Prefecture. Its pitch black walls and tiled roof give it a dignified air, and have earned it the nickname "Crow Castle".

Korakuen Garden

Korakuen is a Japanese garden and daimyo teien (garden of the samurai class). This important cultural asset is known as one of Japan's "Three Great Gardens".

Kurashiki Bikan Historical Quarter

In Kurashiki, Okayama lies the Kurashiki Bikan Historical Quarter, a popular sightseeing spot where traditional Japanese buildings still stand.
Bitchukokubun-ji Temple

A Buddhist temple located in Soja, Okayama, the five storied pagoda surrounded by beautiful gardens is a symbol of the sightseeing area Kibiji.

Great Seto Bridge

The Great Seto Bridge connects the two islands of Honshu (Kurashiki, Okayama) and Shikoku (Sakaide, Kagawa). The viewing platform overlooking the bridge is also a popular tourist destination.

Seto Inland Sea

Countless islands dot the calm waters of the Seto Inland Sea, each home to culture, produce, and spectacular scenery. Naoshima and Inujima have become particularly popular in recent years, seeing a great influx of visitors.
Hiruzen Plateau

This plateau sits atop Mount Hiruzen in Maniwa, Okayama. It is popular as a place to see wildlife the likes of which can only be found on a plateau, and as a resort spot.

Kakuzan Park

Located in Tsuyama, Okayama, Kakuzan Park is home to over 1,000 cherry blossom trees. During the cherry blossom season, the trees are lit up at night, producing fairy-tale like scenery.

Bizenyaki

Bizenyaki is a kind of pottery made in the Bizen area of Okayama. Many pottery houses can be found in and around Bizen, making it a pottery lover's paradise and popular tourist destination.
Nishiyama Farm (peach picking)

A lot of fruit is grown in Okayama, and during the peach season, peach picking is a popular activity for visitors to the area.

Mimasaka Farm

Mimasaka Farm is located in Mimasaka, Okayama. Here, visitors can enjoy strawberry picking in the spring and grape picking in the fall.
Yoshino Sightseeing Buses can send a bus to pick you up from Okayama Airport or any of the other airports near Okayama. (Kansai International Airport pick-up is only available when staying at accommodation in Okayama.)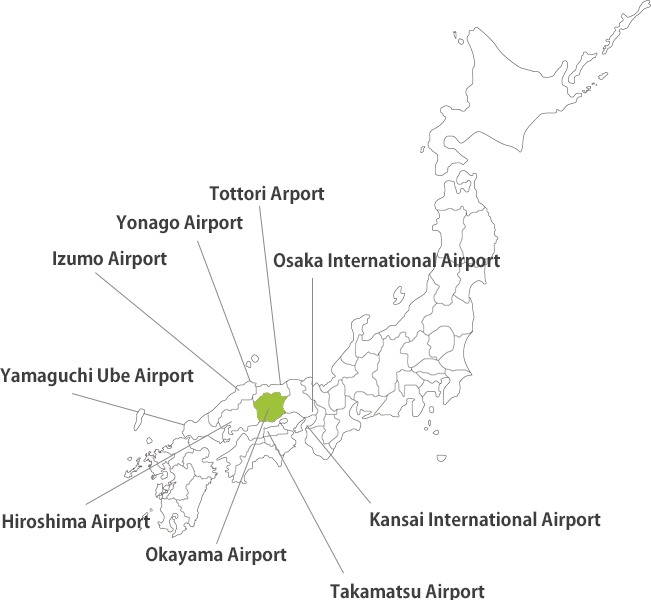 ・Okayama Airport OKJ
<Airports near Okayama>
・Kansai International Airport KIX
・Osaka International Airport ITM
・Izumo Airport IZO
・Takamatsu Airport TAK
・Yamaguchi Ube Airport UBJ
・Yonago Airport YGJ
・Tottori Arport TTJ
・Hiroshima Airport HIJ